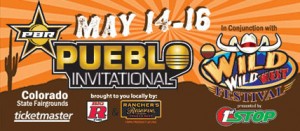 The Professional Bull Riders, Inc. (PBR) has announced the 2nd annual Wild West Festival to be held here in Pueblo for three days, May 14 -16.
"We are excited to be bringing an additional day of Built Ford Tough Series competition to all PBR fans who travel to our home town to enjoy the Wild Wild West Festival," said David Cordovano, Chief Global Events Officer of the PBR. "All of the new activities surrounding this year's festival will make the entire weekend even more enjoyable for everyone."
The Pueblo Invitational – the 21st stop on the elite BFTS series will be held at the Colorado State Fair Events Center in Pueblo on Friday, May 14 at 8.pm, Saturday, May 15 at 6 p.m. and Sunday, May 16 at 5 p.m.. Tickets can be purchased online at www.ticketmaster.com or by telephone at (800) 745-3000.
The event will include authentic cowboy, Native American and mountain men villages, hot-air balloons and famed Native American recording artists Brule. There are several activities for the families including Mutton Bustin', carnival rides, street vendors, a jaxx festival, a chili cook-off, shopping and more.
Fans have the opportunity to receive complimentary admission to WWWF courtesy of Big R Stores. To get your free pass, you should visit a participating Big R store.
For more information visit the PBR website
Pueblo is a city located in Pueblo County in southern Colorado. The City of Pueblo is situated on the confluence of the Arkansas River and Fountain Creek. The area is considered to be semi-arid with approximately 14 inches of precipitation annually. As of the 2005, the city had a total population of 104,600. It is the county seat of Pueblo County.
Pueblo was formerly one of the largest steel-producing cities in the United States. It is now home to a number of electronics and aviation companies. The Historic Arkansas River Project (HARP) is a beautiful river walk that graces the historic Union Avenue district. It shows the history of the Pueblo Flood.
Hometown of Damon Runyon, who never returned after 1911 or so, but mentioned Pueblo in many of his newspaper columns (notably his "Our Old Man" pieces).
Pueblo is the hometown of four living Congressional Medal of Honor recipients – Drew D. Dix, Raymond G. Murphy, William J. Crawford, and Carl L. Sitter. The Medal of Honor is the highest military award that can be bestowed upon a member of the United States Armed Forces; Teddy Roosevelt lobbied for one but never received it during his lifetime, and General George Patton said "I'd sell my immortal soul for that Medal."
President Dwight D. Eisenhower upon presenting Raymond G. "Jerry" Murphy with his Medal in 1953 commented, "What is it…something in the water out there in Pueblo? All you guys turn out to be heroes!". In 1993 The City Council adopted the "Home of Heroes" theme because with four living recipients that is more than any other city in the United States. On July 1, 1993, the Congressional Record recognized Pueblo as the "Home of Heroes" http://www.homeofheroes.com/
Pueblo is home to Colorado State University – Pueblo, formerly University of Southern Colorado. It is part of the Colorado State University system, with about 4000 students.
Pueblo is the home of the Colorado State Fair, held annually in the late summer, and an annual Chili Festival.
Pueblo may be best known as the home of the Federal Citizen Information Center and its Consumer Information Catalog. For some 30 years, TV commercials have invited Americans to write for information at "Pueblo, Colorado, 81009."
Pueblo Geography:
Pueblo is located at 38°16'1″ North, 104°37'13" West (38.266933, -104.620393).
According to the United States Census Bureau, the city has a total area of 117.5 km2 (45.4 mi2). 116.8 km2 (45.1 mi2) of it is land and 0.8 km2 (0.3 mi2) of it is water. The total area is 0.66% water.
Pueblo Demographics:
As of the census of 2000, there are 102,121 people, 40,307 households, and 26,118 families residing in the city. The population density is 874.6/km2 (2,265.5/mi2). There are 43,121 housing units at an average density of 369.3/km2 (956.6/mi2). The racial makeup of the city is 76.21% White, 2.41% African American, 1.73% Native American, 0.67% Asian, 0.06% Pacific Islander, 15.20% from other races, and 3.71% from two or more races. 44.13% of the population are Hispanic or Latino of any race.
There are 40,307 households out of which 29.8% have children under the age of 18 living with them, 44.5% are married couples living together, 15.1% have a female householder with no husband present, and 35.2% are non-families. 30.0% of all households are made up of individuals and 12.9% have someone living alone who is 65 years of age or older. The average household size is 2.44 and the average family size is 3.03.
In the city the population is spread out with 25.1% under the age of 18, 10.3% from 18 to 24, 26.6% from 25 to 44, 21.4% from 45 to 64, and 16.6% who are 65 years of age or older. The median age is 36 years. For every 100 females there are 93.9 males. For every 100 females age 18 and over, there are 90.2 males.
The median income for a household in the city is $29,650, and the median income for a family is $35,620. Males have a median income of $29,702 versus $22,197 for females. The per capita income for the city is $16,026. 17.8% of the population and 13.9% of families are below the poverty line. Out of the total population, 24.3% of those under the age of 18 and 9.1% of those 65 and older are living below the poverty line.
Pueblo History:
In 1842 traders built a fort, or barricaded settlement, where Pueblo now stands. Generally about a dozen families lived there, traveling to various Indian encampments to trade for buffalo robes. On Christmas Eve, 1854 Fort Pueblo was attacked by about 100 Utes and most of the inhabitants killed. The site remained uninhabited until the modern town of Pueblo was settled after the Colorado Gold Rush of 1859.
Pueblo was once a major economic and social center of Colorado, and was home to important early Colorado families the Ormans and Adams'. Until a series of major floods culminated in the Great Flood of 1921, Pueblo was considered the 'Saddle-Making capital of the World'. Roughly one-third of Pueblo's downtown businesses were lost in this flood, along with a substantial number of buildings. Pueblo has long struggled to come to grips with this loss, and has only recently begun a resurgence in growth.
The economic situation of Pueblo was further exacerbated by the decline of American Steel in the 1970s and '80s, and Pueblo actively seeks to diversify its economic base to this day. The City features a riverwalk, extensive trail system, industrial park, and revitalized downtown area to this effect.
Pueblo Harp
A 32 acre Riverwalk in the heart of Pueblo that has boat rides, is the gathering place for many community events.
Pueblo RailwayMuseum
Includes locomotives, passenger, freight and special-purpose cars in the rail yards behind and a short distance to the west of the historic 1889 Pueblo Union Depot. W
here you can see, touch,enter, and sometimes ride the locomotives and cars that made railroad history.
Steelworks Museum
The museum's main exhibit is the 'Story of Steel: 1915-1936'. There also are photographic displays of mills and mines owned by the Colorado Fuel and Iron Co.; a medical display in the former company dispensary and a gift shop. Admission includes tours of the CF&I Mine Rescue Car No. 1. Open 10 to 4 Monday through Saturday. Admission is $5 adults, $3 ages 4-12, and free for members.
Steel City Theatre Company
Is your go to theatre company in Pueblo Colorado. Winning numerous awards and proving time and time again they are dedicated to quality.
Pueblo Zoo
Visitors, including those using strollers or wheelchairs, enjoy an easy stroll through beautifully landscaped grounds that lead to Serengeti Safari, North American Grasslands, the Australian Outback, World of Color, and an Asian Adventure. In the Ecocenter, explore a tropical rain forest, discover naked mole rats in their underground world, and watch penguins "fly" underwater.  Islands of Life invites you on a shipwreck journey to habitats around the world. Enjoy northern river otters swimming and frolicking or visit the Pioneer Ranch where kids of all ages can get up close to farm animals.
Home to more than 420 animals of 140 species, the Zoo is managed by the Pueblo Zoological Society and accredited by the American Zoo and Aquarium Association (AZA)
Colorado State Fair
Is a lively celebration of the people, agriculture, art, music, natural resources and industries that collectively make Colorado an incredible place to call home. The Colorado State Fairgrounds in Pueblo welcomes dozens of concerts, livestock shows, horse shows, professional rodeo and creative art exhibits and is home to one of the region's largest fiesta celebrations
Pueblo County Historical Society
Preserving Pueblo's past
Southern Colorado Heritage Center
The Southeastern Colorado Heritage Center and Museum seeks to preserve, promote, and interpret the heritage of southeastern Colorado thereby fostering an understanding and appreciation for the plurality of its people. We accomplish this by providing the public access to our historical collections and by cooperating with other heritage-related groups.
Pueblo Harp
The Historic Arkansas Riverwalk of Pueblo (HARP) is an urban, water based, multigenerational recreational environmental education Riverwalk amenity that is publicly owned and free of charge to all populations within the region
Rosemount Museum
Historical information regarding this mansion and tour hours and cost, architecture and decor, calendar of events, and on-site restaurant information.
Pueblo Art Guild & Gallery
Local Pueblo Artist display their work at Pueblo Art Guild located in Mineral Palace Park in Pueblo. Pueblo Artist, Local art shows, art classes, local artists, watercolor, oil, pastels, photograph shows awards ribbons fun fun fun
Damon Runyon Repertory Theatre Company
To promote, encourage and educate the community and Southeastern Colorado Region in the performing arts – including drama, dance, music and technical arts: and to provide entertainment, youth programs, conservatory activities, employment, tourist revenue, development of talent and new works and educational activities as they relate to the performing arts.