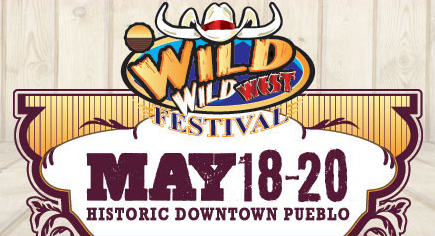 The Professional Bull Riders, Greater Pueblo Chamber of Commerce, and the community of Pueblo will host the 4th annual Wild Wild West Festival, May 18-20, 2012. The western themed festival will feature events for the whole family ranging from concerts to carnival rides. The festival weekend will be highlighted by the Pueblo Invitational Built Ford Tough Series Event scheduled for Friday- Sunday May 18-20 at the Colorado State Fairgrounds Events Center.  Tickets are on sale now for the Pueblo Invitational at www.ticketmaster.com.
The festival will be held throughout the Pueblo community with the majority of the events centered on the Riverwalk and the Union Avenue Historic District. Events throughout the 3-day festival will be hosted by community non–profit organizations and the Wild Wild West Festival Committee. Some of the events you can participate in include the PBR Fan Zone, live entertainment, carnival rides, street vendors, and much more!
For more information see the PBR Wild West Festival Website
The Colorado State Fair is honored to host the 27th NSRA Rocky Mountain Street Rod Nationals; the premier street rod event of the rocky mountain region. More than 2000 street rods are expected to be in attendance.
Special Attractions during the 2011 Rocky Mountain Street Rod Nationals include: Women's World, an arts and crafts fair featuring unique jewelry and gifts; a vintage auto parts swap meet; and live entertainment on Friday and Saturday night. There will also be a Street Rodders all-denominational church service, and an NSRA Safety Program. The Safety Program is a voluntary check of a vehicle for all aspects of safety. Safety Inspectors are enthusiasts who are willing to volunteer their time to make sure that everyone can experience a safe rodding experience.
Companies such as PPG, Walker Radiator Works, Inc., Amsoil, Borgeson and Lokar Performance Products as well as other manufacturers and dealers of specialty automotive equipment will be on display in the Kitchen Craft Hall of Commerce. This is a great opportunity to pick up parts, supplies and accessories for all types of vehicles.
Admission Adults: $14, Children ages 6-12 $5, and Children five and under are FREE! Military discounted price $12.00 with proper military identification. For additional information call the Chamber at 719.542.1704.
June 24-26, 2011
8:30a.m. – 5:00p.m. Friday
8:00a.m. – 5:00p.m. Saturday
8:30a.m. – 3:00p.m. Sunday
Information source: http://www.pueblochamber.org/rocky-mountain-street-rod-nationals-0
Household Hazardous Waste Collection Day
The City of Pueblo, Pueblo Cares and Pueblo Wastewater Department are offering Pueblo city and county residents the ability to get rid of their garbage, May 22, 2010 at the Colorado State Fairgrounds from 8:00 – 1:00pm. Their will be a $5 entrance fee per vehicle.
For more information you can call the Pueblo Recycle Hotline at 719-583-4924.
The list of items that you can drop off are.
Appliances and Batteries and Mercury Items
Flourscent bulbs, thermometers, thermostats
Alkaline dry cell batteries: A, AA, AAA, C,D,6v,9v
Rechargeable batteries
Appliances ($5 for for Freon-containing appliances)
Auto Products
Used vehicle tires (Limit: 12, additional $1 each)
Lead acid batteries for vehicles
Auto body filler, engine degreaser
Car cleaners, waxes, chrome polish
Radiator flushes, carburetor cleaner
Cleaners
Abrasive cleaners, degreasers, deodorizers, disinfectants
Floor cleaners and wax, rug and upholstery cleaners
Oxidizers, furniture polish
Toilet & drain cleaners, pool chemicals
Oven cleaners, rust removers, silver cleaners
GLUES
Caulking, cements, resins (fiberglass and epoxy)
Rubber cement thinners
Rust proofing products
Health and Beauty Products
Cuticle remover, hair removing cream
Hair dyes and perms
Nail polish and remover
Peroxide, rubbing alcohol
Paints
Oil-based and latex paint, aerosols
Paint thinners, turpentine, mineral spirits, removers and strippers
Lacquers, stains, varnishes
Poisons
Herbicides, fungicides, insecticides
Moth balls, roach and ant killers, rodent poisons
Soil fumigants, weed killers
Flea sprays, shampoos, powders and collars
NOT ACCEPTING
Electronics
Motor Oil and Antifreeze
Bio hazardous Waste
Business Waste
Explosives
Household trash
Liquid Fuels
Yard Waste/Trimmings